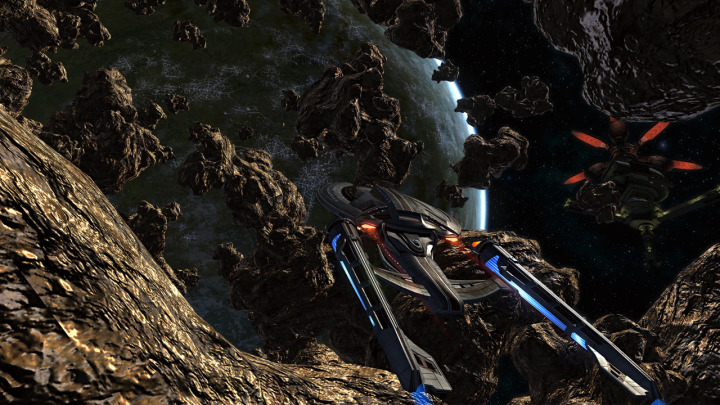 Massig viele neue Screenshots und ein Datum werden uns von Ctyptic's Star Trek Online diese Woche beschert.
Die Beta wird jedoch nur denjenigen zugänglich sein, die sich ein 6-Monats oder Lebenslang-Abo eines der anderen Cryptic Studios' MMO's ans Bein binden wollen.
Ob man da unbeding mitaufspringen muss, muss sich jeder selbst fragen. Die neuen Screens aus dem Spiel jedoch machen so langsam einen richtig guten Eindruck.
Die Bilder und die Original-Meldung von startrekonline.com, findet Ihr auf "weiterlesen" klickt.
Original-meldung von startrekonline.com.
For a limited time only six-month and lifetime subscribers to Cryptic Studios' other MMO, Champions Online, will receive, among other exciting perks, guaranteed access to the Star Trek Online beta test!

"Beyond the deep discount on the subscription rates, we wanted to come up with added incentives and exclusives that, as gamers, we could get excited about," said Jack Emmert, Cryptic Studios' Chief Operating Officer. "With an early commitment to Champions Online, granting guaranteed early access to our next big game, Star Trek Online, seemed like a great way to engage Cryptic's biggest fans in other projects at the studio."

Lifetime subscribers will also receive an exclusive Mirror Universe costume set for Star Trek Online.

Here are the great features our loyal customers will receive.

Lifetime Subscription ($199.99 USD | $219.99 CAN | £119.99 GBP | €147.99 EUR)

Guaranteed Star Trek Online Closed Beta Access
STO Mirror Universe Costume Set

Six Month Discounted Subscription ($59.99 USD | $65.99 CAN | £35.99 GBP | €44.99 EUR)

Guaranteed Star Trek Online closed beta access

Don't miss out on these great deals! You can purchase your subscriptions now!
Quelle: startrekonline.com